Keen:Troubleshooting/Game Crash Issues
Jump to navigation
Jump to search

OFFICIAL CONTENT NOTICE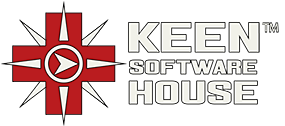 OFFICIAL CONTENT
This article contains official content from or verified by the developers at Keen Software House. This information is intended to be accurate at the time it is posted, but may become obsolete over time. If you find errors in this article please describe the errors in the
Discussion
Page.
CRASHES RIGHT AFTER LOADING
PROBLEM

The game often/always crashes after loading.

SOLUTION

We have investigated that some broken DirectShow filters can crash the game when it tries to play a video (e.g. some versions of DirectVobSub). If you are using such software, please ensure it is up-to-date.
MULTIPLE GPUs – DISABLE SLI / CROSSFIRE
At this point, Medieval Engineers doesn't support multiple GPUs. So if you start the game with them, you may encounter crashes, graphical artifacts or even problems running the game. You need to disable this function in order to make the game work properly.
HOW TO DISABLE
For Crossfire

right-click on your desktop and select Catalyst Control Center. Click Graphics -> CrossfireX -> uncheck Enable Crossfire. Then click ok.
For SLI

right-click on your desktop and select Nvidia Control Panel. Expand 3D Settings tab -> click on Set SLI Configuration -> select Do Not Use SLI Technology. Apply changes.
CRASHES DURING LOADING
PROBLEM

The game often/always crashes during loading.

SOLUTION

There may be a malware/virus blocking Windows services required to run the game. Please run an anti-virus/anti-malware software. This solution already helped our users!
GENERAL CRASHES
PROBLEM

The game crashes on a random point while playing. AMD Beta drivers issue

SOLUTION

It has been reported by some players who have AMD Beta drivers installed on their system that their game is crashing on some random moments while playing. In order to fix this you must first uninstall the AMD BETA driver, restart your PC and install the official AMD drivers (NOT BETA). Then restart your PC again.