Keen:Troubleshooting
Jump to navigation
Jump to search

OFFICIAL CONTENT NOTICE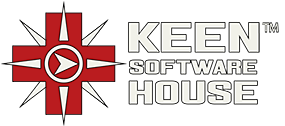 OFFICIAL CONTENT
This article contains official content from or verified by the developers at Keen Software House. This information is intended to be accurate at the time it is posted, but may become obsolete over time. If you find errors in this article please describe the errors in the
Discussion
Page.
We are very sorry that you encountered a problem with Medieval Engineers.
We will do everything possible to help you.
---
FORUM – GAMEPLAY HELP
If you are having trouble playing the game we recommend checking our gameplay help sub-forum. There is a good chance that your questions has been answered before or can be answered by the community. Also, if you think that you have an answer to a common question, it would be nice to post it on the forum so that everyone who has the same question can see your suggested solution.
BUG REPORTING AND TECHNICAL HELP
If you have encountered a bug while playering Medieval Engineers or you are experiencing some technical difficulty, you can report it at the Keen Software House support portal. We ensure you that your bug report will be checked and our team will do its best to resolve it. Note: Medieval Engineers currently does not support nVidia/AMD 3D vision and it should be disabled in the nVidia/AMD control panel, otherwise it can cause various issues.
How to report a bug
Please read our Bug Report Guide
TROUBLESHOOTING CATEGORIES
Choose any of the below categories according to the problem that you are experiencing. If you can't find a solution in any of the suggested solutions, please make a post to report your problem at the Technical help sub-forum by following the above guide.


GAME WON'T START ISSUES
GUIDES & GAMEPLAY HELP
GRAPHICS / PERFORMANCE ISSUES
GAME CRASH ISSUES

WINDOWS 10 ISSUES / SOLUTIONS (2015)
Most of these issues are/were caused by updated to Windows 10 from a previous version of Windows (7/8/8.1). Although many of these issues no longer occur and didn't really occur on fresh installations, there are still circumstances where they may happen for one reason or another. That is why we are keeping them here for reference.
See additional information on our forum post.
Problem

Medieval Engineers won't open.

Solution

This is caused by hardware and driver support issues mentioned above. We recommend using the latest drivers directly from the hardware designers.
NVIDIA – http://www.geforce.com/drivers
AMD – http://support.amd.com
Intel – https://downloadcenter.intel.com
Problem

Medieval Engineers looks dark and grey.

Solution

This sometimes happens because of the Steam overlay. In the Steam client click the Steam menu > Settings. Click the In-Game tab and uncheck the Enable the Steam Overlay while in-game checkbox. Click OK.
Problem

Medieval Engineers doesn't display properly or the menu buttons can't be seen.

Solution

Try running in Windows 10 in compatibility mode.
You can try Windows 7 and Windows 8 modes to find which works better for you. This is usually a good workaround until there are updates for your drivers and for Windows 10 compatibility.
The exe file for Medieval Engineers can be found here (default location)
C:\Program Files (x86)\Steam\steamapps\common\MedievalEngineers\Bin64\MedievalEngineers.exe
Problem

MedievalEngineers can't access MedievalEngineers.cfg, MedievalEngineers.log or other files.

Problem

Cannot create log file: System.UnauthorizedAccessException: Access to the path 'C:\Users\YourUserNameHere\AppData\Roaming\MedievalEngineers\MedievalEngineers.log' is denied.

Solution

Some users are reporting this problem after switching to Windows 10. In some cases we have found that the users have copied files from their old operating system to the new one. In other cases it seems to be an issue created by the Windows 10 upgrade. This creates the problem where the old files have different ownership credentials from the new user account on Windows 10. This prevents Medieval Engineers from accessing them.

Rename or move the %appdata%\MedievalEngineers folder to a different location.
Start the game and have it create new folders by…
Creating a new custom world with at least one mod enabled
Creating a new blueprint

This will create blueprints, mods, and saves folders as well as new cfg and log files.
Then copy your the contents of your old saves and blueprints folders into these new folders in %appdata%\MedievalEngineers.
Do not overwrite the new cfg and log files.
3rd PARTY PROGRAMS & APPS
It has been reported that some 3rd party programs can cause in-game issues, game not starting or black screen. In this case, you will have to disable these programs in order to run the game. Below is the list of the 3rd party programs that have been reported so far.
AMD Raptr
Lucid Virtu MVP
MacType
LogMeIn
xFire
Carbonite Backup